The Begining! The HRL only kept track of HR's from 1986-1988. Here is a look at the first few years.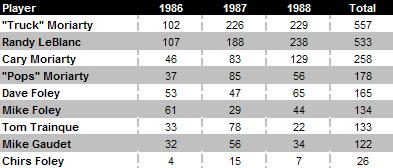 The 1988 season also brought the 1st logo for each season. ( Shown Here )

The 1988 season also was the inception of the HRL 's very own publication, The Record Breaker!
The Record Breaker made its debut in 1988 and continued through the 1993 season. Make sure to check them out in each year.
Under construction!
Issue # 1 Issue # 2 Issue # 3 Issue # 4
Issue # 5 Issue # 6 Issue # 7 Issue # 8